Irresistible Party Food Ideas for Kids
Everybody loves a party, especially kids! And one of the best parts of most parties is the food!! So, if you are planning a party for kids, you want a delicious spread, but you might have to tweak your traditional adult party fare! Check out this huge list of ideas for party food for kids & you'll be well on your way to planning your next party!
Finger Foods
Finger foods are a perfect party food because they are small & portable! Just like toddlers can't usually sit for long enough to finish a meal, you can't expect a group of kids gathered together to stop & sit down to a full meal! These grab & go bites are perfect party food for kids because they can grab one or two & keep playing!
Favorite Party Food for Kids
Crock Pot Chex Mix
Looking for something that the kids can just run by & grab? This crock pot honey chex mix by In the Kids Kitchen would be a good option! Place the mix in small cups & let kids just grab them & head back off to play!
---
---
---
---
Sausage Balls
If you are like me and you LOVE sausage balls, you have to see this recipe from Savory With Soul! This isn't your regular old sausage ball recipe, because it adds a little something extra for delicious flavor that the kids will likely never notice!
Quesadillas
Everybody has a go-to meal for when guests are coming, and this is mine! Although I love to make my "confetti quesadillas" when I can, sometimes I have to leave out the veggies for the pickier eaters! Try out my delicious golden-brown quesadillas with just chicken & cheese, & I'll believe you'll have a winner!
Game Day Bacon & Cheese Potato Skins
Older kids & teens will especially appreciate these bacon & cheese potato skins from Two Kids And A Coupon! And it definitely doesn't have to be "game day" to enjoy these yummy bites! Make these along side a simpler sandwich bar & you'll get rave reviews!
Pigs in a Blanket
Pigs in a Blanket are a favorite of kids & adults alike! This recipe from Masala Herb looks delicious & has several variations from cheese pigs to Jalapeno Pigs! The great thing about Pigs in a blanket is that they are quick & easy, so you won't be standing in the kitchen all night!
Pizza
Another crowd favorite is pizza! This mini variation is a fun twist, especially for a kids party! Once again, Masala Herb has a great recipe for these bite sized mini Pizza bites! Make some with ham & pineapple, others with pepperoni, & some just plain cheese!
If you want to add even more fun to a favorite, try these Snowmen Pizzas from Snappy Gourmet! They are super cute and kids would have a ball making them themselves!
Mozzarella Sticks
Mozzarella sticks are definitely a kid favorite, but if you have guests that are gluten sensitive, this option from Pink Fortitude might be a great alternative!
Chicken Tenders
Now, this is kid food for sure! Try this paleo chicken tender recipe from Hungry Hobby for your next gathering and see if anyone can tell the difference!
Kabobs
Who doesn't love food on a stick!? You can make Kabobs out of just about anything… sandwiches, fruit, dessert, meat & cheese! Just cut your food up in bite-sized pieces, pair your foods, & alternate foods on the skewer! This is a winner for sure!
Fun Food Bars
Food Bars are a great idea for party foods for kids or adults because they give you lots of options & people can skip over the ingredients that they don't really like! Find some inspiration for your next party in these awesome food bar ideas below!!
French Fry Bar
I really love this French Fry Board from Jessica at Care Free Mermaid! She has taken several different types of fries & arranged them along with several dipping sauces! Kids love to dip, so this is a win for sure!!
Game Night Food Bar
The ladies at Sustain My Cooking Habit have a super fun (& yummy) Game Night Menu! They have 6 different snack options that go along with a game night like, 2 of a kind meatballs & Poker chips & dips! How fun!
Sandwich Party Station
A Sandwich Party Station is such a great idea for kids! This one from Cutefetti is adorable!! With a sandwich station, kids can pick what they will eat!
Nacho Bar
Talk about fun party food for kids! This awesome Nacho Bar from Moms & Munchins also includes a dessert Nacho bar!! It will certainly have all of your kids' friends talking!!! This would be a great choice for teens or tweens for just about any kind of party you can imagine!
Burger & Fry Bar
Another amazing bar idea from Moms & Munchkins is this retro-themed burger & fry bar! I love this idea, especially for a kid's party, because this is easy-to-love kids' food that adults can also really enjoy (especially with all of the added condiments)!
Fruit Favorites
Fruit Bug Snacks
These little fruit bug snacks from On My Kids Plate are SO CUTE! All kids love fruit & they will love eating (& even making) these fun treats!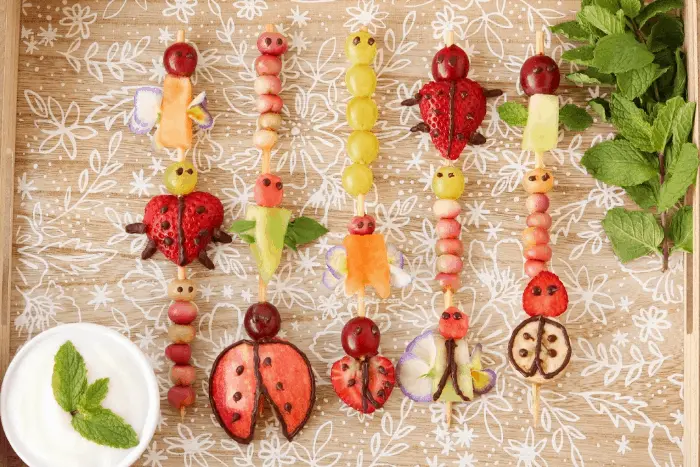 Healthy Fruit Dip
As long as you are having fruit, try this sweet yet healthy fruit dip from Flavours Treat! It combines yogurt & honey to make a creamy treat to serve with any fruit!
Fruit Waffle Cones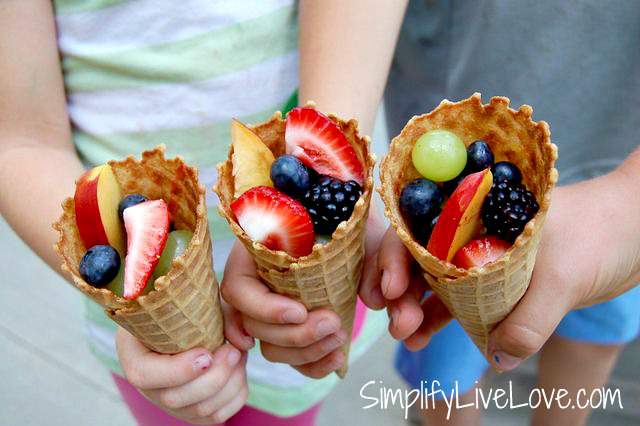 This idea from Simply Live Love is a wonderful way to serve fresh fruit, especially for kids… waffle cones!! And you know what would make a great topping? The fruit dip listed above!!
Fruit Pizza
I love fruit pizza! It's a delicious dessert that isn't too heavy or sweet! This recipe from Barth Bakery is a perfect combination of crust, lightly sweetened cream & fresh fruit! You're guests, young & old, will love this one!
Sweet Party Food for Kids
Cupcake Puppy Chow
If you have never had puppy chow before, well… I don't really know how to advise you! It is highly addictive, so I don't want to be responsible for your fall… but it is just SO YUMMY!!! This cupcake puppy chow from Artsy Fartsy looks like the perfect addition to any little girl's dream birthday!
Funfetti Cheesecake Ball
Nothing says party like SPRINKLES!!! So this funfetti cheesecake ball from The Happier Homemaker is so festive & fun! Change up the color of your sprinkles for whatever occasion!
Dressed-Up Rice Krispie Treats
I am a HUGE fan of rice krispie treats!! And one of the best things is that you can dress them up & change their look and taste based on whatever your theme or even color scheme! These star wand rice krispie treats from Leggings & Lattes are so adorable! And if you're looking for a snack for your little adventurers, try my Trail Mix rice krispie treats!
Oatmeal Creme Pies
Barth Bakery has a delicious recipe for homemade oatmeal cream pies! This would be a hit for Little Debbie lovers all around!
Popcorn
If you're having a movie night, popcorn is a given! But with these irresistible twists to an old favorite, you'll want to serve it an every party you throw!
Rainbow Popcorn Balls by Brooklyn Farm Girl
Candy Coated Jello Popcorn by In the Kid's Kitchen
Nacho Seasoned StoveTop Popcorn from Radical Strength
Unicorn Popcorn by Partylicious
Ice Cream Desserts
Cake Batter & Ice Cream Crepes
These cake batter crepes with ice cream would be awesome for a brunch bar or birthday breakfast! Check them out on Food Meanderings!
Homemade Neopolitan Ice Cream Cake
If you have a child who is torn between a traditional cake, and an ice cream cake, you'll have to try this Neopolitan Cake from Food Meanderings! It's the perfect marriage of cake & ice cream, and it looks beautiful too!!!
Cupcakes & Cake Pops
Cakes, cupcakes & cake pops (maybe my favorite of all, & definitely a kids fav) will always be needed for parties! Here are a few ideas for alternatives to your traditional yellow cupcake with vanilla frosting!
Marshmallow Flower Cupcakes by Bitz N' Giggles
Pinata Cupcakes by Dancing thru the Rain
Kit Kat Cupcakes from Crumbs & Corkscrews
Galaxy Cake Pops by the Soccer Mom Blog
Fun Drinks for Kids' Parties
Kid-Friendly Cotton Candy Drink
Eating on a Dime has created this adorable & super-simple Cotton Candy Punch that you have to check out! This is one idea that I would have never been able to have come up with!!!
Coconut Creme Blue Raspberry Slushie
Another great idea from Food Meanderings is these Coconut Creme Blue Raspberry Slushies! Although these are made with blue raspberry martini mix, they are 100% nonalcoholic! Kids will love these colorful slushies!!
Sweetheart Shake
For a fun milkshake for any cherry lover, try this cherry chocolate-chip "Sweetheart" milkshake! This milkshake is a different take on my favorite homemade ice cream flavor! But don't forget, as much fun as the milkshake is… be sure to top it with whipped cream, sprinkles, and other toppings to dress it up!
Lots of Great Options for Party Food for Kids!
There are many great options for party food for kids, but remember to include things that you know the kids you are serving will enjoy. Also, the cooler the presentation, the better it will be received. And most of all, have fun!
What is your favorite party food for kids? Share your ideas below in the comments!